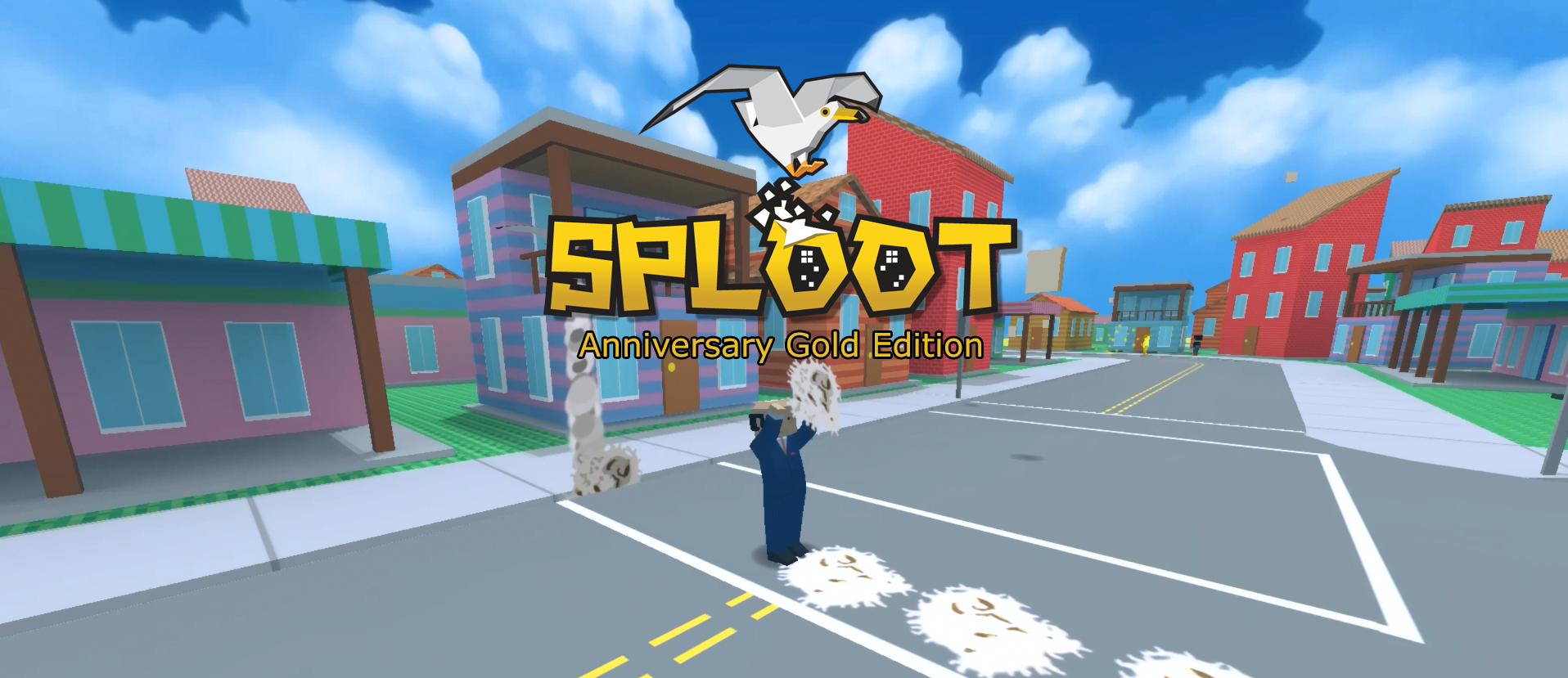 Sploot
A downloadable game for Windows and macOS
Sploot

You loved Sploot, now enjoy it updated for consumer VR headsets. Sploot Anniversary Gold Edition is out now!
A game built specifically for VR (but also playable without it), you experience the life of a Seagull that poops constantly and craves bread.
Fly around a charming seaside town, raining fecal chaos on the innocent citizens below. Poop on as many people, cars and buildings as possible. Fill your insatiable lust for bread, and seek out the most valuable golden targets. Be careful, you're very fragile!
Step into the webbed feet of a seagull with explosive diarrhea.
Rain poop on the unsuspecting citizens of a charming island town.
Satisfy your insatiable lust for bread.
Built from the ground up for VR.
Also playable with a conventional monitor, mouse + keyboard/gamepad.
Controls
VR Controls: You'll turn in the direction you're looking. To use buttons, look at them and press any key/button on a controller. To select buttons with the vive controller, use the trigger.
Mouse + Keyboard Controls: The mouse will directly steer you (non-VR only)
Left stick on a controller will also steer you (non-VR only)
Diving builds speed, climbing lets you air brake.
You poop uncontrollably, just focus on flying!
Pressing Esc/start/ on a controller (or the menu button on the Vive) will bring up a pause menu. From here you can recalibrate your VR headset if you start drifting in one direction. Look straight ahead during calibration.
Notes

Sploot's VR support has been tested with an Oculus CV1 and HTC Vive on Windows 10. At the moment, I only have a Vive on hand to test with. While you, the valued consumer, are not QA, if there's some Oculus issue that crops up, let me

If you're having performance issues, consider changing the shadow modes in the Settings menu. Blob shadows will be faster, but real-time shadows look best.

Sploot's OSX VR support is uncertain. v1.01 should work with a DK2 on OSX. v1.02 probably won't at all with Oculus headsets. v1.02 is untested with a Vive on OSX. Assume that VR support is only guaranteed for Windows.
Latest Release Notes
12/17/2016
Version 1.0.3
It's been a long time coming, but the Vive support is finally here! Oculus is still supported, too, so you should have no problem with either headset.
Many performance updates are also included in this build. Performance increased enough that I've removed baked-lighting from the graphics option. At this point, real-time shadows perform well enough on most systems that I don't think baked lighting is worth the extra load times.
Development Roadmap
Next on the table for Sploot is additional performance improvements.

Press Accolades
"Luxuriate in the simple joys of a poop joke using the latest in VR technology" - Killscreen.
"With its simple, crude and silly gameplay, Sploot is a hoot" - Free Game Planet.
"Is this your latest trend, 2015. Birds pooping on people? In video games?" - Kotaku
"It's surprisingly satisfying to poop on everyone and everything, as I quickly learned ... It's not a complex game, or a complex joke, but it's a fun one—especially for the price of pay-what-you-will." - Offworld

Press Resources
Click here for high res screenshots, logo, gifs, etc for all your press needs. If anything is missing or you want things in a different format, don't hesitate to contact me.

Team
Art, programming and design by Elijah O'Rear.
@EdgeOfProphecy
---
| | |
| --- | --- |
| Published | 2 years ago |
| Status | Released |
| Platforms | Windows, macOS |
| Rating | |
| Author | EdgeOfProphecy |
| Genre | Simulation |
| Tags | Colorful, First-Person, Flight, Funny, low-poly, Oculus Rift, poop, simulation, Virtual Reality, vr |
| Average session | A few minutes |
| Languages | English |
| Inputs | Oculus Rift, HTC Vive |
Download
Click download now to get access to the following files:
Sploot_1.02_mac.zip
433 MB
Sploot_1.01_mac.zip
463 MB
Comments
Log in with your itch.io account to leave a comment.
I got version 1.02 win to work with the Vive using LibreVR and the Revive Injector:
https://github.com/LibreVR/Revive

https://github.com/LibreVR/Revive/releases/downloa...

Just follow the instructions with the Revive Injector, and put the DLL files and the EXE into the same directory as Sploot.exe, and then drag Sploot.exe onto the ReviveInjector exe (either x86 or x64), and it will work. You will probably have to hit escape and recalibrate the view before playing.

I love this game! You should make a Steam VR version that has high score tracking and multiplayer!
Thank you very much for the Vive instructions and the feedback! Steam VR integration is an excellent idea. I'll do that for v1.03. My Vive just shipped, so I'll test it and make any adjustments as needed.
I know it's been quite a while since you posted this, but I just released a new version that has Vive support.
Holy crap this was fun to play! And yes, I'm aware I made an unintentional pun about the subject of the game o-o I'M STICKING WITH IT!
I made a Let's Play of it as well :) I hope it brings some attention your way, Edge!
Hi Eliyah!

Just released a Let's Play of this game over at my YouTube channel! :)

Hope you like it! I liked it!
Stay Rad
/RadiCarl
Yeah, Brilliant. Exactly what I hoped and more.
Keep workin' hard and you'll be huge.
gg, GG.